Today in History – April 10, 1662 – Robert Hooke's first publication – a pamphlet on capillary action, to the Society for the Promoting of Physico-Mathematical Experimental Learning. The Society had been constituted, to promote experimental philosophy, by at a meeting of a dozen scientists in Gresham College on 28 Nov 1660. The Society subsequently petitioned King Charles II to recognise it and to make a royal grant of incorporation. The Royal Charter, which was passed by the Great Seal on 15 Jul 1662, created the Royal Society of London. On 5 Nov 1662, Hooke was appointed its Curator of Experiments. However, Hooke is more famous for Hooke's Law, dealing with elasticity in springs.
The Latin anagram 'ceiiinosssttuv' was published by Robert Hooke (1635-1703) in 1676. Before patents and intellectual property rights, publishing an anagram was a way to announce a discovery without giving any details. The Latin 'Ut tensio sic vis' literally translated into English would read "of the extension, so the force", but in modern English, we would say "Extension is directly proportional to force". In 1678 Hooke published the solution to the anagram and went on to explain what became known as Hooke's law for the force and extension of a spring.
Hooke's Law: F = – k X, where F is the force, X the distance compressed or extended from equilibrium, and k a constant of proportionality or spring constant.
Hooke's Law is valid for some other materials besides springs under certain loading conditions. For example, it is only valid in steel for stresses below its yield strength.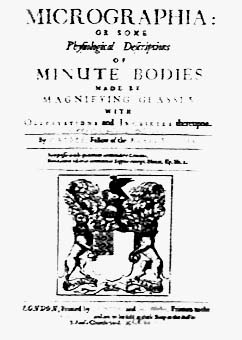 While Hooke was perhaps best known for this law, he also was involved in various scientific inquiries. He is the father of microscopy and his publication Micographia in 1665 included the first set of observations under a microscope and a theory of light that included the discovery of the phenomenon of refraction. Later he discussed thin films and postulated their periodicity. Many of his works were in the field of mechanics; springs and elasticity, vibrating strings and pendulums, circular motion and celestial dynamics, to name a few. Hooke also ventured into geology with his Lectures and Discourses on Earthquakes he contributed to our understanding of crystals and fossils. His work with fossils made him an early proponent of evolution. Hooke also developed a theory of combustion and related it to animal respiration. He performed experiments on dogs for the Royal Society. Pairing his interest in microscopy with biology he was the first to use the term cell to describe the basic unit of life, comparing its structure to a prison cell. He was also interested in studying the theory and practice of music, was an important architect of his era, studied the rotations of Mars and Jupiter, was the first to state that matter expands when heated and is, in fact, made up of small particles separated by relatively larger spaces.
In addition he postulated the inverse square law for gravitational attraction that was later developed by Newton. It was rumored that jealousy over Hooke's contribution to the theory of gravitational attraction, attributed mostly to Newton, led to Newton obscuring the work of Hooke – including failing to preserve the only known portrait of Hooke. At the time Hooke was curator of the Royal Society and Newton served as its president.
Robert Boyle, the father of modern chemistry, was greatly aided by Robert Hooke's air pump which he used in his experiments. He also drew inspiration from Hooke's work with springs. Robert Boyle is now recognized as one of the founders of modern chemistry. What is not so apparent, nor recognized, is that it was Robert Hooke who actually created the air pump on which Boyle's experiments could be conducted. Much of Boyle's work on gasses may have been inspired, if not strongly based, on work carried out by Hooke on the science of springs and elasticity.
Robert Boyle wondered if the air pushed back in the same way that a spring will push back when it is compressed. He knew that compressed springs obeyed Hooke's law: that the amount of force with which they push back increases in proportion to the extent to which they are compressed-for every centimetre of compression the force increases by the same amount. He was curious to see if the "spring" of gases, as he called pressure, behaved in the same manner. Which begs the question: was it Robert Hooke who provided much of the thinking and intuitive-modelling behind the discoveries made by Boyle on the nature of gases?
As a back drop for the amazing quality and quantity of Hooke's science, one should look at the society and history of the times when Hooke was working. Cromwell's middle class revolution was nearing its end and Charles II was restored to the throne. Pirates roamed the seas. Captain Kidd (1645-1701) was a contemporary of Hooke's. Witchcraft trials were frequent, perhaps the most famous in Essex in 1645. Bubonic plague was rampant. The Great Plague of London in 1666 killed between 75,000 and 100,000 people – a fifth of the population. While the world was in such turmoil, the great minds of early science gathered to discuss ideas. And Hooke may have been the best of those scientists.
For more information, see the Engineering Pathway's educational resources on Hooke's Law or view our Materials Engineering Education and our Engineering Mechanics Education community sites.
Also on this date in 1790, the U.S. Patent Law was signed into law by President Washington. The first patent issued under this statute was signed by George Washington on 31 Jul 1790 for Samuel Hopkins' process to make potash and pearl ash. For more information, see the Engineering Pathway's educational resources on patents and inventions.