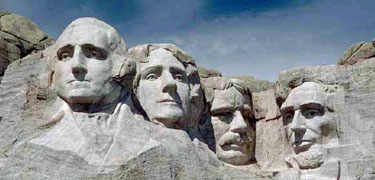 Today in History – October 31, 1941 – Mount Rushmore was completed. The Mount Rushmore project was an incredible feat of engineering and an integration of art and technology. It is the largest work of art on earth with a face that is 60 feet high. Although the workers regularly used dynamite and heavy equipment, it was constructed with no deaths and very few injuries. See the Engineering Pathway's related resources in art and technology.
The original visionaries of Mount Rushmore had hoped to carve out local heros and were considering General George Armstrong Custer and Buffalo Bill Cody. The local Lakota Indians protested, as did the sculptor Gutzon Borglum, a student of French artist Auguste Rodin. The four presidential figures that make up Mount Rushmore were selected to "create an eternal reminder of the birth, growth, preservation and development of a nation dedicated to democracy and the pursuit of individual liberty."
Meanwhile Lakota Chief Henry Standing Bear worked with sculptor Korczak Ziolkowski (below right) to produce an even larger sculpture honoring the legendary Lakota leader Crazy Horse and his culture. Construction is ongoing at the Crazy Horse Memorial and Museum. See the Engineering Pathway's related resources for Native American Engineers and Scientists.